In Memory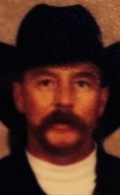 Jeffrey Lynn Zabriskie, born Feb. 28, 1958, to Douglas Lynn and Evelyn Williamson Zabriskie, died peacefully at his home in Kuna, Idaho, on Sunday, Oct. 26, 2013, from a heart attack.
Jeff grew up in Logan, Utah, with two brothers and three sisters. Linda (deceased), Bruce, Sheryl (Collin) Barfus, Becky Stewart, Kenneth (Jennifer). He was a friend to all who knew him and always liked to tease.
He married Cindy Rauch, they lived many different places in the 35 years they were together, finally making a home in Kuna, Idaho.
Jeff was a hard worker and had a great love and respect for the Lord. He could do anything with his hands and always helped anyone whenever he could. He lived his life the way he wanted. He rode bulls, served his country in the U.S. Army, made steel, farmed, drove truck across the country, welded and raised a family. He was a super HERO to many.
There was never dull moment with Jeff around. He could find humor in any situation.
He is a husband, dad, grandpa, brother, son, uncle and friend. He believed deeply in God and country, an American through and through. Jeff will be missed by many.
Jeff leaves behind his wife Cindy of 35 years, three boys and their wives. Kody (Mandi), Kristopher (Misti), and Kenton (Kimberly), and eight awesome grandchildren: Jessica, Ashton, Marcus, Kristian, Dominik, Vinsint, Kelsy and Nicholas.
There will be a viewing from 6 to 8 p.m. Friday, Nov. 1, and services on at 2 p.m. Saturday at the Boise Funeral Home and Aclesa Chapel at 8209 Fairview Ave., Boise, Idaho.
Click here to see Jeff's last Profile entry.