In Memory
Brett Schiffman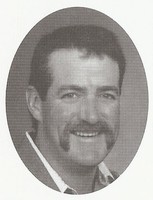 Birth:
Jan. 7, 1958
Spokane
Washington, USA
Death:
Aug. 1, 1998
Tooele
Tooele County
Utah, USA
Bret Reed "BR" Schiffman
North Logan, Utah: Bret Reed Schiffman, 40 passed away Saturday, August 1 1998 from injuries sustained in an accidental fall in Wendover Nevada. To many family and friends, who always affectionately referred to him as "BR," he was a loving husband, son, brother, and father. He was born to Reed LeRoy and Dixie Seeholzer Schiffman on Jan. 7,1958 in Spokane Washington. He was raised in the Logan 19th Ward and was an Elder in the Church of Jesus Christ of Latter-Day Saints at the time of his death. He received his education in the Logan City School District and graduated from Logan High in 1976.

From a previous marriage one child, Heather Shea Schiffman was born. Heather was the pride and joy of her father's life. At the time of his death, Bret was married to his dedicated wife and best friend, Deb Wilde. They made their home in West Haven, Utah where they both enjoyed living and working a hobby farm, raising and training Border Collies and horses.

During high school, Bret participated in many events. He was the captain of the debate team, and a member of the wrestling and football teams. During and just after high school, Bret enjoyed the theater with many parts in musicals and productions. For several years he was a regular on the set of the Festival of the American West Pageant. During summer months many hours of compassionate service were rendered working with handicapped children at Camp Kostopulos in Salt Lake City. Bret also found interests in baking and worked as a baker for several years at the Royal Bakery. At the time of his death he was doing what he enjoyed, working construction for ABCO Construction and as baker for Albertson's in Roy, Utah. While growing up, Bret learned to love the outdoors, spending time with him family on various hunting, camping, boating and fishing trips. A summers highlight was his dad loading the car with all the boys and participating in sports. He coached little league baseball for several years and in his later years spent summers golfing and fishing at special family getaways. Bret was especially fond of skiing at which he had developed expert skills. For many years he was one of the skiing icons at Beaver Mountain, where he learned to work and enjoyed being with family and friends. Bret always looked forward to weekends where he could spend time with his wife skiing and participating in races at Beaver where he could prove his skills against family and friends.

Bret will also be remembered for being fun loving, having many friends and always standing up for the underdog. He was always so thoughtful of his parents and Heather and available to help out whenever needed.

He is survived by his wife Deb Wilde, his only daughter Heather Shea Schiffman; two brothers, Mitch (Sonja) Schiffman of North Logan, Craig (Julie) Schiffman of Logan; and one sister, Lori Kriesel of Salt Lake City. Bret will be missed dearly by many nieces, nephews and close friends. He was preceded in death by grandparents, Fred and Pearl Schiffman and Harold and Luella Seeholzer. Bret was especially close to his "Gram Seeholzer" and we are sure he is happy to greet her once again. Burial will be in the Logan City Cemetery.
1958-1998