In Memory
Jeanne Campbell (Tibbitts)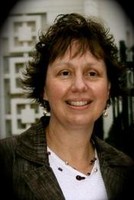 Birth:
Jul. 4, 1958
Logan
Cache County
Utah, USA
Death:
Apr. 16, 2011
Grace
Caribou County
Idaho, USA
Jeanne Marie wanted more than anything to be home at the base of the Bench Mountains where we continue to feel her spirit lingering now. It is here she lived, loved her Louie, worshiped her Savior and raised her five children. It was this place at the base of Water Canyon while the moon shone full across the snow-covered peaks she left this mortal life Saturday night with her family around her.
Jeanne Marie Campbell Tibbitts, 52, passed away at home in Grace after a courageous battle with cancer. The faith and prayers of countless friends and loved ones sustained Jeanne as she repeatedly faced the debilitating effects of disease and the gradual loss of physical capability. She met each challenge with renewed determination and hope. She found her peace near that hillside she called heaven where her family resides.
Jeanne Marie was born on July 4, 1958, the youngest of 11 children of H. Sanford and Rosalie Barrus Campbell. Preceding her in death were her father and one brother, Eric Campbell. She graduated from Logan High School in 1976 and attended Utah State University and Ricks College.
She finally noticed the lifelong neighbor boy after he returned from his mission in England, and she waited what she considered to be a reasonable amount of time before she proposed to Ira LaRon (Louie) Tibbitts on Feb. 29. They married in the Logan LDS Temple on May 15, 1980. Jeanne's families are deeply grateful for Louie's dedication as he has stayed beside Jeanne day and night these last months in the Logan, UofU and Huntsman hospitals. He was her caregiver and her love to the end.
To Jeanne and Louie's children, Ira Brent, Brandon, Brian, Michelle and Miranda, she wished to be here to see you finish school, get married, and see you love like she and Louie have loved, and she wanted more time to continue your family adventures whether it was water skiing, snowmobiling or Jeeping. She bragged about her lovely daughters-in-law, Cydney, Marlee and Clover, and was able to spend precious time with her 18-month-old grandson, Riley, before leaving.
Jeanne Marie has been a guiding force in several successful businesses. She served as managing partner for Louie's Electric Co., secretary for East Branch Canal Co., and audit committee chair for Campbell Scientific and Juniper Systems. She was instrumental in helping launch Campbell Scientific in the late '70s. Yet, no role was more cherished by Jeanne than those of wife, mother, teacher and homemaker. She loved sharing her music and her life with youth in her area.
Jeanne received the Beaver Award in the Wood Badge Course and later served on the Wood and Cedar Badge Training Staff at Family Camp. She served as stake Primary president for 11 years, Young Women's leader for Laurels and Mia Maids, Young Women's camp director. Recently she was called as a ward organist. In her final days on this earth, Jeanne Marie sat at her piano and played music that has sustained her through many difficult hours. Besides piano, vocal and organ music, Jeanne has always enjoyed gardening, quilting and family recreation.
Jeanne Marie is survived by her husband, Ira LaRon (Louie), and children: Ira Brent (Cydney), Brandon (Marlee), Brian (Clover), Michelle and Miranda; one grandson, Riley, and mother, Rosalie Campbell. She is also survived by seven brothers and two sisters: Gaylon Campbell (Judy), Dorothy (Don Little), Ronald Campbell (Mary Jean), Stanley Campbell (Diana), sister-in-law, Sandra (the late Eric Campbell), Evan Campbell (Marion), Bruce Campbell (Kayleen,) Ruby (Tom Stroschein), Paul Campbell (Paulette) and Wayne Campbell (Karen).
Jeanne's family expresses sincere gratitude for the unparalleled skills of many health care professionals at Logan Regional Hospital, Huntsman Cancer Institute, the University of Utah and home health care providers. Thank you for your expertise and compassion. We are especially grateful to Jeanne's wonderful neighbors who have given so many precious hours and given of their means to help. Thank you!
We will celebrate Jeanne Marie's life, Friday, April 22, from 6 to 8 p.m. at the Thatcher-Williams Ward chapel in Niter, Idaho. Funeral services will be held Saturday, April 23, at noon in the ward chapel. Friends may call Saturday from 10:30 to 11:30 a.m. prior to services. Interment will be in the Lago Cemetery just south of Niter.
In lieu of flowers, the family suggests donations be made to the Jeanne Marie Tibbitts memorial fund at Ireland Bank.
Services are under the direction of the Sims Funeral Home. Condolences may be made online to the family at
www.simsfh.com.