In Memory
Kristy Pettigrew (Mathews)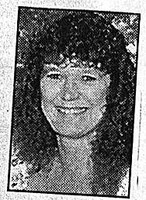 Hyrum, Utah - Kristy Ann Pettigrew Mathews, 43, died Thursday, Nov. 29, 2001, at the home of her parents in Logan, Utah. She is at peace now after a 12 year battle with breast cancer.
Kristy was born on Dec. 25, 1957, in Logan, Utah: a Christmas Day present to Karl E. and Jeanne Brown Pettigrew.
Kristy was a very courageous and strong-willed person, even as a girl. When she was about 5 years old, she wanted to learn how to ride her bike, but everyone was too busy to help her. After a while we looked out, and she was riding her bike up and down the street: she had learned on her own. This was the kind of person she was throughout her life. Kristy spent a quarter of her life fighting cancer with the same courage and will, right to the end.
She married Ross Mathews on Aug. 20, 1994. Kristy enjoyed the outdoors and loved to go fishing and camping with Ross in Logan Canyon. She also was an excellent gardener. Her pride and joy was her rose garden, and she loved sharing her cut roses with everyone. Kristy loved reading and was never without a book.
Kristy graduated from Logan High School in 1976. Kristy was an accomplished dancer and spent a short time modeling. She attended Bridgerland Technicial School, studying computer technology. She worked at Weathershield Manufacturing for the last 13 years as a vinyl welder and was very meticulous in her work. She was a loving and caring person with a great sense of humor. She will be greatly missed by her family and friends.
God saw you were getting tired and cure was not to be, So he put his arms around you and whispered, "come with me." With tearful eyes we watched you suffer and saw you fade away. Although we loved you dearly we could not make you stay. Your golden heart stopped beating your precious hands put to rest, God broke our hearts to prove to us, He only takes the best.
She is survived by her husband, Ross: her parents, Karl E. and Jeanne Brown Pettigrew: her brothers: Richard (Karen) Albiston, Paradise, Utah, and Karl E, (Darla) Pettigrew, Logan; "special sister," Carol (Fred) Pace, Nibley, Utah: and many nieces, nephews and grandnieces.
Funeral services will be held at the Allen-Hall Mortuary Tuesday, Dec. 4, 2001, at 2 p.m. A viewing will be held between 6 and 8 p.m. on Monday at the Allen-Hall Mortuary. Interment will be in the Logan City Cemetery.